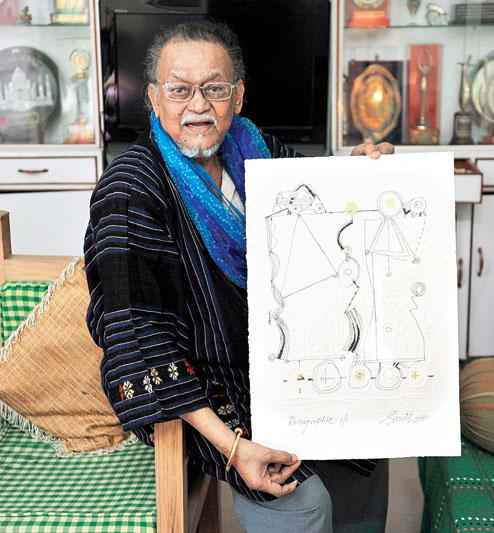 To prevent myself from producing the same kind of work, I keep altering my vision – Sunil Das
From the day people begun to see me as a painter, a huge responsibility fell upon me, particularly to respond to the feelings of the people at the grassroots level who are also my viewer, as also to delve deep into realities of life around me.
One of India's important post-modernist painters, Sunil Das rose to prominence with his drawing of horses. "I must have done 7000 horses between 1950 to 60," he says. "In 1962, I went to Spain, where I was fascinated by the bull fights."
About 60 years of age, he can look back at his nine to ten phases of paintings, all of them marked by supreme skill and a sense of integrity. An indefatigable painter, Sunil Das jumped from one style to another easily.
Talking about his art style, he says, "To express my authentic feelings about reality, I have to interpret it, I have conceptualize it. The previous reality gets transformed in the laboratory of minds. Then, I bring it out on the canvas."
Sunil Das came from a middle class family and his father was just a small businessman. After completing school, he decided to become a painter and joined a local art school. "I am a good sports man," he says. "I like things which have a lot of rhythm and energy."
He doesn't ever use photographs or models for his painting. "I do a sketch before I start painting. I always struggle with colours and shapes, until they fall to desired pattern. Like a music conductor, I summon all my music instruments to play and orchestrate an aesthetic unit out of various experiences." He does not confine himself to using brush or pen while painting, and often paints with the palms of his hands or with his fingers.
A French art scholarship with the Ecole Nationale Superieure des Beaux-Arts took him to Europe. It was in the course of his travels that he chanced to spend a few months in Spain, where he developed his passion for horses and bulls. Sunil Das' paintings have also been influenced by his study of sculpture at Santiniketan, Kolkata, and his study of graphic art in Paris. His paintings have a kind of structure and rigidity that one would typically find in sculpture and in the etchings of graphic art.
Sunil Das's paintings not only express the physical attributes of his subjects but also their associative ones. Every once in a while he paints human beings, but his depiction of the human anatomy is skewed, to a point that it almost borders on macabre surrealism. For example, his series on women with mysterious, tantalizing eyes – all oil on canvas, the portraits convey, in various forms including the erotic, the pressures women are subject to.
Hardly ever painting in loud or warm colors, Sunil Das uses soft brown, mauve and white in the background to bring out the drama of life. He blends talent with hard work. He works by suggestion and minimalism. Quite absurd in form, his paintings are morbidly fascinating. "I delve a lot on man's inhumanity to man," he says.
Sunil Das has the distinction of being the only Indian artist to have won a National Award (the Shiromani Kala Puraskar) while still an undergraduate at the Government College of Art and Craft, kolkata. Besides having been featured in several exhibitions, his works are also a part of the collections of renowned museums such as the National Gallery of Modern Art, New Delhi, the Glenbarra Art Museum, Japan, and the Ludwig Museum, Germany.
Education
1961-3 L 'Ecole Nationale Superior des Beaux Arts, Paris (On a French Government Scholarship)
1961-3 Research in Fresco and Mosaic under Monsieur Shapple Midie and Monsieur J. Aujame, Paris
1961-3 Studied Graphic Art under William Hayter and Krishna Reddy
1961-3 Research in Painting, Atelier Julian and Atelier 17, Paris
1954-59 Diploma in Painting, Government College of Arts and Crafts, Kolkata
Exhibitions
Solo Exhibitions
2008 'Endless Night', Ganges Art, Kolkata
2005-06 'Art Moves – Works by Sunil Das', organized by Delhi Art Gallery, New Delhi at Jehangir Art Gallery, Mumbai, Park Hotel, Kolkata and Rabindra Bhavan, Lalit Kala Akademi, New Delhi
2005 'Horses…and Bulls – Paintings on Canvas and Paper by Sunil Das', Jamaat, Mumbai
2003 'Sunil Das in Retrospect 1957-2003',. ITC Sonar Bangla Art Gallery, Kolkata
2001 'Drawings – Bulls and Horses', Dhoomimal Art Centre, New Delhi
2000 Art Heritage, New Delhi
Participations
2007 , Attended art camp with Eyewithin Art in  in Myanmar. 
1999 Annual Exhibition, 32nd Anniversary of Birla Academy of Art and Culture, Kolkata
1989 20th International Biennale, Sao Paulo, Brazil
1989 International Biennale, Havana, Cuba
1989 Festival of Japan, Tokyo
1989 International Triennale, New Delhi
Honours and Awards
2008 Taj Ratna Award
1991 Shrimoni Award, Kolkata
1989 Commissioner Sao Paulo, Biennale, Brazil.
1983 Commissioner Triennale, India.
1982 Jury of National Exhibition of Art, Lalit Kala Akademi, New Delhi
1978 National Award.